WHAT WE OFFER IN CUXHAVEN
AutoTerminal Cuxhaven lies directly at the mouth of the Elbe, making it the perfect hub for the short sea area (UK, Mediterranean and Scandinavia).
With a total area of 135,000 m² and trimodal connection, the terminal provides all the loading and unloading activities of a modern logistics company. It has a storage capacity of 7,000 vehicles.
AutoTerminal Cuxhaven provides top-quality storage and handling for vehicles from a wide range of manufacturers - 24/7. We also offer our customers (automobile manufacturers, importers, shipping lines) smaller-scale technical work such as washing and applying underbody protective coating.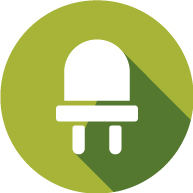 Sustainable! As a responsible company, we have equipped our site with LED lighting. Furthermore, we plan to generate some of the electricity we use with our own photovoltaic system.
Karriere bei BLG LOGISTICS
Erfahren Sie jetzt, wie Sie bei uns durchstarten können!